a search for character.. seeking meaning of life.. losing naivete in the process..
Wednesday, June 29, 2005
yesterday's happenings..
i went out for a dinner cum coffee session yesterday with some really old pals. here are the photos.. they speak for themselves.
Tuesday, June 28, 2005
my prints..

i was chatting to an old friend over msn last week. this friend of mine, we hardly talked over the years. didnt meet up at all except for the once-in-a-blue-moon on the street coincidence. still, we didnt have much exchange.

recently, he was added to my msn list. and cos i use msn everyday.. we started chatting quite often. we started reminiscing abt the past. the kind of stuff we did when we hung out so often back then..

it seems.. that i left a deep impact in his life and it took him many years to get over it.. i'm kinda sadden by this thought. i never knew my actions/words would hurt someone so bad.

i didnt mean it that way. sometimes, things just happened too fast for one to react accordingly. other times, factors like maturity, understanding of the situation and analyzing skills come into play. though there's nothing much i can do now about what has happened in the past, but it has dawned on me to take my dealings with anyone with more care. choose your words carefully and don't hurl angry abuse at anyone. you'll never know what kind of impact you might leave behind. it might scar someone else's life..


getting busier..
i havent had the time to blog for the past few days. its been hectic. and i have abt 30mins to blog watever i can and i'm gonna be out of the office for the rest of the day. got to bring the new operations guy around to the outlets and introduce him to the outlet personnels.
im suffering from a really bad tummyache. i wonder what i ate wrong. took some medication and im still feeling pale and weak. -urgh- (wonder yee tat is feeling the same way too.. we ate the same dinner last nite!)
the weekend passed me by before i could really catch up with my sleep. in fact, i think im more worn out over the weekends. spent sat nite at david's house for steamboat dinner and snooker thereafter into the wee hours of the nite.
slumped into bed ard 7am on sunday morning and woke 4 hours later to get ready for sentosa. the sun wasnt entirely cooperative, but thankfully it didnt rain on us. brought mum, 3goo and small yee to unique seafood at turf city for dinner and ended up really late back home. would have collapsed immediately if i had a bed to myself.
i ended up struggling to keep awake till 2.30am in the morning and waited for my uncle to give my bed back to me. they are due to fly off at 7am in the morning. he didnt and i just shoved him aside and plonked myself on the usually unoccupied side of my queen size bed.
i feel so much like garfield. i HATE mondays! i havent had the time to work on my jap for weeks. and im so tired each time i take jap class. and i ALWAYS feel so drained by the time i get home on mondays. i wonder how much longer i can keep this up.
here are some of the photos taken over the weekend..
my colleagues!!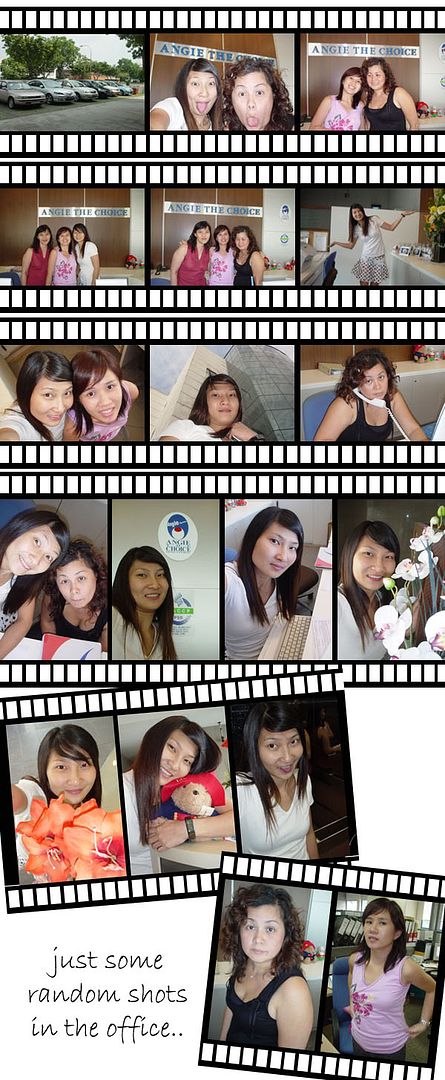 steamboat dinner..
sentosa!!
Saturday, June 25, 2005
tired..

a lazy afternoon gone like that.

i have been officially offered a job in the new company.. or rather given a prep talk abt how things will be. i really excited but worried that i may not be able to produce/excel. many things that i havent done before. but it sounds really exciting.. and my type of dream job.

oh well. shall not think abt it first. worry next week when the hand over happens.

im popping to the beach tomorrow morning/afternoon. anyone interested? gimme a beep on my mobile! in the meanwhile.. hope everyone has a great weekend!


Friday, June 24, 2005
big sigh..

i am mildly annoyed. in fact, more than mildly annoyed. i have work ethics and i hope you respect that.

i tried hinting, but u didnt get it. ur calls seemed to revolve around the same topic. it's annoying. really annoying. but i didnt want to tell you straight in the face.

quit asking for it, and dont try your luck. i'm not going to give it to you just so you are too lazy to compile it yourself. sorry.


silent me..

im outta sorts today.

no, i shall not blog abt anything.

i shall head for bed early.

but superstar was nice to watch. nite world.


Thursday, June 23, 2005
updated photos..

Oops. i just realised that i copied the wrong link and had 2 duplicate collages posted earlier. i amended the error and posted the right collage already. check it out, but it's only 3 pictures. haha.. good nite world!


feeling bitchy..
i wonder if it's a good day today. shall mention the good things first. met michie in town today. coincidence! hee.. see ya again next week! hee. here's some photos on the dinner with ant.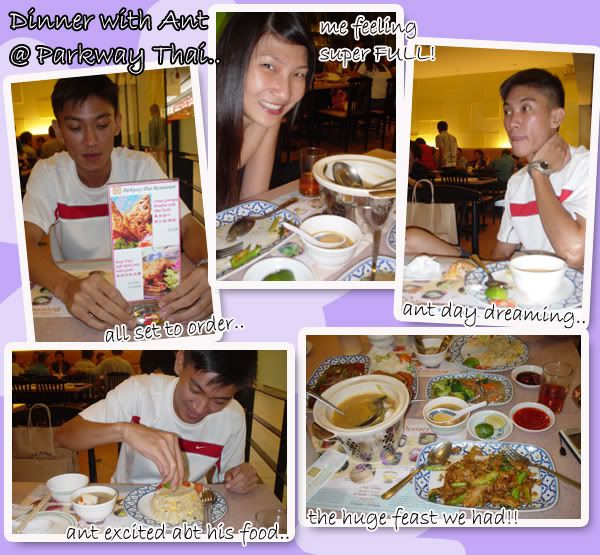 met wei in town. another coincidence! actually, not so much of a coincidence. i was in town and i happened to call him and found out he was coming to town and is only 5 mins away from where i was, so i popped by to say hi! makes me so happy for the rest of the day.
took this while strolling to the train station on the way home. cool rite? new moving mango models. heh. if only i can get them to face me. i think that will be more cool.
now for the not-so-nice events for the day. im reeling in pain now and i have only myself to blame. my molars are hurting, and it means my teeth are moving. not a good sign and i quickly fitted on my retainers. -ouch- super painful since the last time i wore it was weeks ago. but u know, lazy me. i wont wear it regularly coz im simply too lazy. and the fact that i'll get insomia when i wear them deters me from even wanting to wear! -sigh-
and someone called me a bitch today. its not so much of scolding me, but really telling me what a bitch she found me and my bimbotic actions that she cant stand.
err.. and i realised the difference in me admitting myself as a bitch and really hearing someone being all blunt and declaring me a bitch RIGHT IN MY FACE. i dunno if i should be happy or sad. happy cos someone actually have the courage to tell me that.. (reminds me a little of myself) or sad cos someone actually acknowledged the fact. but oh well.. im cool abt it. there's no bloody way i can please everyone in this world and im not going to change just so you called me a bitch and my actions bimbotic. that's the way i am and that's what my friends love about me. and that's the bitch i am. rite frens? (support please!!!)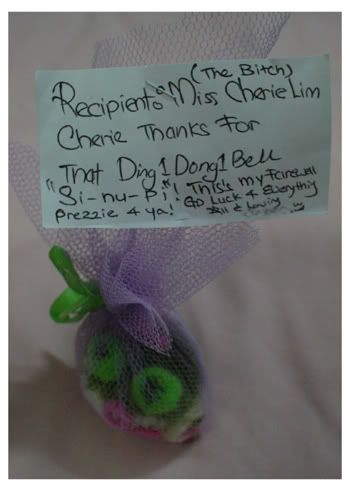 here's the farewell pressie the girl who called me a bitch gave me. i blurred her name to protect her identity. there's really no need for you to know.. and it's really sweet of her to have given me a farewell gift. handmade somemore leh!!
-touched-
and check out the message she wrote. cool rite? -showing a sore face- hahaha.. no lah.. i think she really reminds me of myself.. except that im not as blunt as her. woah! i think i've met my match. ;P
and yeah, she's leaving us. and i got farewell gift for her too.. (awww.. im such a SWEET BITCH, rite?) anyway, im not gonna mention it here.. in case someone leaks it out.. or when she reads abt it when she happens to pop by my blog.
oh oh.. and check out the pretty little things i made moments ago.. well, the names speaks for themselves who they are for.. the earrings for myself. havent touched my tools for a long time.. kinda miss them. but i miss the money that i earned from it more!! anyone interested in having something made by me? put in your request and i'll consider! (FOC leh! see? i NICE NICE bitch) of coz, it'll also depends on my time, money, and willingness to put in effort to make. whether i like you a not is the biggest deciding factor, so dun embarass yourself if you think i dun like you. haha.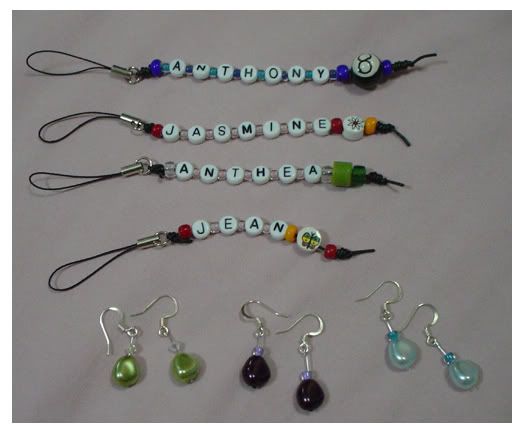 yes. i think im getting mean. but im supposed to be a bitch, so i'll act like a bitch today. and 1 last bitch act before i pop off to bed and bring my doggy to dreamland.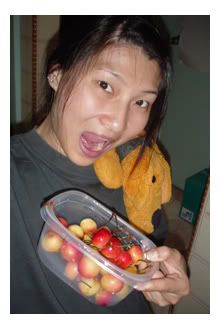 check out the rainer cherries aunt got for me from seattle. cool rite? they are the sweetest cherries i have tasted. big, ripe, crunchy and fantalicious.
no no, im not going to share it with you. im a bitch. only for boi boi and me. see, boi boi nose is digging into it already! it's really yummmy stuff, but no.. i determined in keeping them for myself only! k lar.. ma and gor can eat. heh.
all the way from SEATTLE leh!
well.. if u are really nice to me.. i'll consider sharing some with you.. in a month's time! gor is popping down to the states next week. i wish i could go too.. aww.. but i have no more leave and i just went spain. darn! he's gonna bring me more rainer cherries when he's back.. right gor?
Wednesday, June 22, 2005
infuriating..
have u ever wanted to blog abt something and upon logging in, forgot abt what u wanted to blog initially.
argh! stupid brain of mine.
it's been a boring day in the office. i spent the whole morning reading interesting blogs. heh. just so cos im kpo enuff to poke my nose into others' life. there are loads waiting for me to do, but yes, im procrastinating.
judgement day seemed to be looming near. in fact, i think i know the exact date. but, i may be wrong.. so we shall see.. a little excited, but for all i know.. i may lose my job.. but i guess im pretty cool abt it. i was thinking of a little vacation anyway.. heh.
i made a last min decision to meet ant for dinner tonite. sorry jac, i know u asked me first. my initial decision was to rest at home but i realised that i needed to pass ant something. and so, we'll be having dinner tonite. somewhere in orchard.
i finished the last of my picture collages last nite.. it has taken me almost 3 weeks to finish doing it. here's the last of it..
Day 10 in Spain..


Day 11 Spain..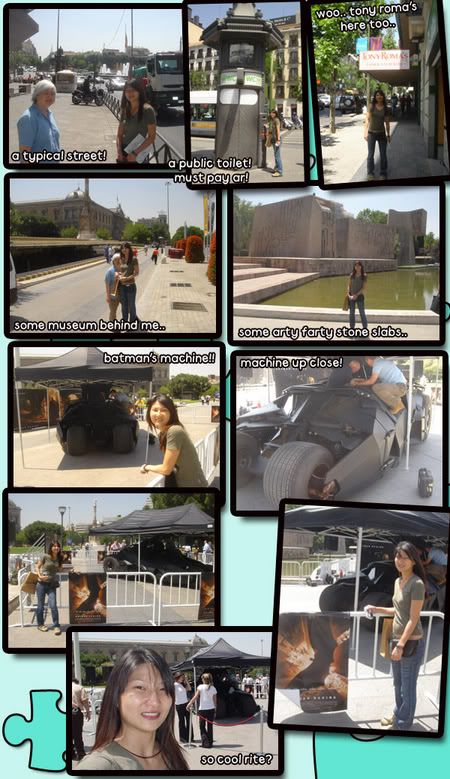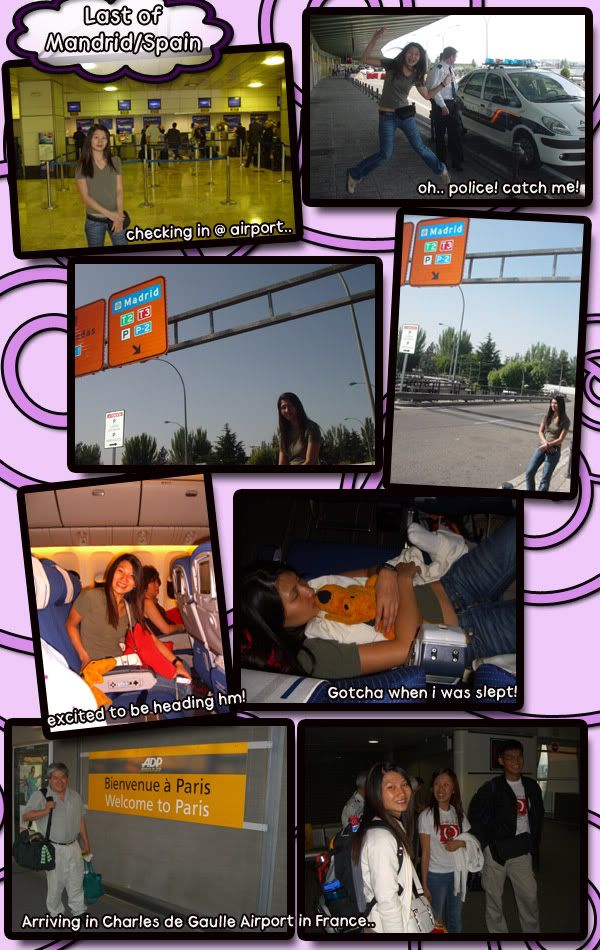 Tuesday, June 21, 2005
updates on the weekend..
I finally finished sorting out the 5000 photos on thurday nite after working on it every single nite after i came back from spain. sent it for print on friday. spent the nite at wei's coz there's no place for me to sleep back home! 3 uncles, my aunt, my brother and my mum.. all in a 4 room hdb flat. and a cramp one that is. after allocating all the space.. i can only sleep on a tiny sofa or out. i chose the latter.
its been a pity that i hasnt been able to update my bloggie over the weekend. the events were so hectic and i was like a mad dog rushing from place to place.
here's a brief account of what happened.
had lunch with chiew yen and jean after work on saturday. i forgot to collect my grandpa's photos after work and had to rush from bishan to yihsun to collect. argh! upon collection, i headed to wei's house to return the car.. and had lunch with him.
spent the rest of the day sorting out the 700+ photos that i developed for gong and lau chek. it was super tedious when all the background looks familiar and because gong only had 3-4 sweaters to alternate with.. he seemed to be wearing the same clothes all the time and since i only developed the pictures with him n lau chek in it only, i had a hard time recalling where was what and when.
Ria (my indonesian classmate in sec sch) was back in town for the last couple of weeks and i was supposed to meet her and the rest of the gang at 6.45pm. and i was sorting the pictures till 8.45pm (only to have half of them sorting by the days). yes. i missed the meeting time and had to skip the dinner. i quickly bathed and changed and cabbed down to suntec to join the gang. boy..i was really quite late. i managed to catch up with Ria for an hr before she had to leave. Girl, it's been nice seeing you after all these years. take care and come visitng soon again! (
click here to see the photos of the gathering
)
joined wei and his bmt mates at balaclava for drinks. already yawning away by then since my day started early in the morning at work. the guys decided to head for a snooker game at my idol's place! woohoo!! i was quite excited and popped along since they are going to play my favourite number ball game. heh. (yeah, i know.. i can only blame myself for being so tired rite?)
got back at wei's place at 3+ and im backing to sorting photos. in accordance to the time of the day and days of the trip.. i was drifting into dreamland in the midst of it. finally completed 1 set at ard 5am and roped in wei to help coz i doubt i could finish.. and everything was done at 6am. gawd.. i was so beat!! wanted to head down to take a cab and wei suggested that i waited half an hr more. more life on the streets and more cab too. so i waited for a while and ended up in dreamland for a hr.
u can imagine how frantic i was when i woke, coz i was supposed to be ready at 9am back home to head for the train station. took a cab back home, worked on photoshop to churn out a birthday card with my face on it for grandpa and rushed in the bathroom to get ready. by the time i was out, everyone was waiting for me. we were late. thank god the train is at 10.30am. took a cab to the train station and minutes after.. i was on the train.. rolling towards layang layang.
everything after is pretty mundane. eat feast at restuarant at layang, head back to rengam, cut up cake.. family photo taking.. chatting with relatives.. play with talking parrot.. took a quick bath (too sticky to bear!), baded goodbyes.. drove to kluang train station, took express train back to sing. the only memorable thing is that gong turned 90 years old!! wow.. 10 more years to a century.. i hope he'll live pass 100. he doesnt look/act like 90 years old and no one on the spain trip think he's 90!
and then cos its father's day as well.. the family decided to have dinner after we reached sing. and i struggled thru dinner. turned zombie by the time i got home.
did some more spain collages yesterday and here they are..
day 8..


day 9..


annoying..

i'm annoyed.

it's so annoying when...
1. you are not feeling well and had to walk 20mins to see the company doctor even tho there's a clinic conveniently located near your house which is 3 mins away.

2. you set out of the house to buy something and mum starts giving you her shopping list so that you can help her buy. and you ended up home with all the things except the thing you initially wanted to buy. -argh-

3. time passes so fast when you finally have a day to myself since you are sick and yet, it passes by so fast that you didnt even realise it.

4. the weighing machines keeps reminding you of the weight you put on everyday but each time you meet friends on the streets, they insist on how skinny you have become.

5. you had to struggle to go attend lessons even though you are sick.

6. you were smsing away in the train and you see the uncle beside u staring at you in the reflection on the glass panel opposite.

7. the uncle continue staring from time to time, even when u stared straight at his face to make him look away(i wonder if it's my low cut tank top..).

8. despite being on mc and at home and have all the time to prepare to go for class, you end up taking a cab.

9. each time you decide to take a cab to class, all the taxi drivers doesnt know where heartland mall is.

10. the aircon is cool in the room and i had to sit here (in the living room) and sweat to type this post.

argh.. what's wrong with the weather these days.. i bathed 4 times today already. so freaking hot! im heading for bed. need to rest. will blog more in the office tomorrow.


Friday, June 17, 2005
aching all over..
argh. my stupid msn just logged out by itself while i was in the midst of chatting with one of my friends. and the maddening thing is that i cant log back on! annoying. and i had to resort to using web based msn for the last 4 hrs.
it's another quiet day in the office. i long for the days where it used to be noisy. i wonder if it's the sugar in my daily milo that's making me sleep. everytime after drinking, i am nodding my way to dreamland. hmm.
* * * *
that day, i was playing snooker with wei. there were 2 couples playing on the table next to us. girls playing on the snooker table never fails to catch my attention. not sure why, but i always wanted to see how good they are at it. and then, after 30 mins of observation, i came to a conclusion. i think im vain. not entirely superly vain. but enough. sounds like an illogical conclusion, but let me explain.
there's this girl, slightly on the plump side.. playing at the table. she's prob ard my height. she was wearing this black bod hugging round neck long sleeve top and 3/4 tapered cargo pants that cuts right off after the knee. her hips were quite big, but they were emphasized further with big pocket flaps flipping by her side when she moves. gawd, she got me memerized in my own thoughts. i was thinking to myself.. i NEVER EVER want to be caught looking like tat. not that she's not pleasant, but i figured, she could have dressed to look better. her clothes just made her look loads fatter, and yes, the image freak in me begin to think of clothes that she could wear to make her look better.
and so, back to my conclusion. i am indeed vain. tho i dont slap layers of make-up on my face, at least i care abt the kind of clothes i wear. the image i protray (not that i watch it every single minute), and most importantly, choosing and wearing stuff that flatters me. not that i look good all the time, but i guess it's part of experimenting.. trial and error allows u learn what's good and what's not.
i wont argue im not skinny. i think many would want to be my size. but seriously speaking, my tummy is huge. believe it or not, but im speaking the truth. and it's seriously getting a tad too huge for my size. subconsciously, i also find myself sucking in my tummy at times to make it look flat. yes, i do not have a naturally flat tummy. and that bothers me too. at the end of the day, im still a girl. and those who say i dun have any tummy.. please go and die. wei doesnt poke fun of my little tummmy and call me "fei mei" for no apparent reason. i can only say, i very consciously choose clothes that hides my tummy. so, any sponsers for me to go marie france?
i slept at 5.30am this morning. but i took a 2hr nap last nite before dinner. and the whole time, i was trying to sort out the photos and burn them into CDR and DVDs. what an agony. i had fun snapping photos on the trip and then spend the next 2 weeks sorting that out. Grrr..
here's the collage of annie's farewell dinner at swensens..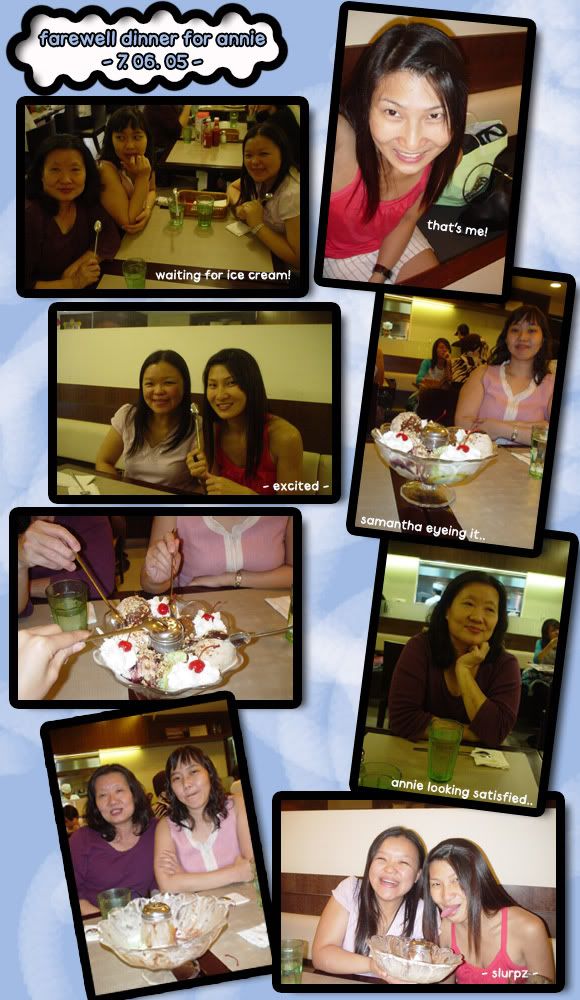 here's the collage on wei's bdae.. just 2 days ago..

and here's day 6 of spain trip..


and day 7!! happy viewing!!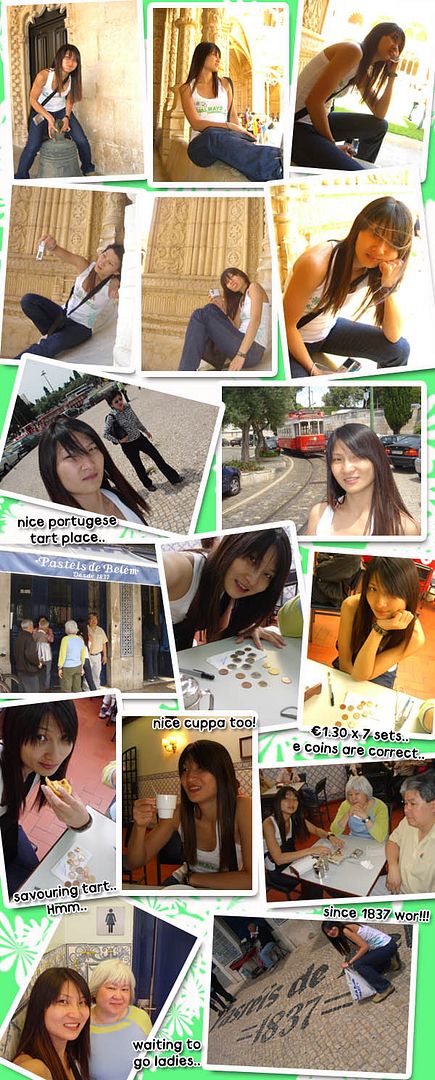 Thursday, June 16, 2005
Alamak!!!!

you wouldnt believe it. what i just it. what a stupid blunder. what a stupid mouth and what a stupid brain.

as usual, the office is REALLY quiet. and i was slowing nodding off to dreamland at my desk while reading blogs. blogs of people whom i do not know personally. blogs that are actually pretty famous in the blogging community. but no, hell no. im not going to reveal whose blogs i was reading. not that the blogs aint interesting, i cant relate to them and slowly slowly, the Z monster is winning the battle, bringing me to dreamland.

things doesnt help much especially since there is no one around me within a now 7 metre radius (used to be 3m. cld be more, cant really tell), and there's no one to talk to, unless i shout or use the telephone. i cant listen to music either. sigh.

and i really couldnt stop my head from nodding no matter how straight i sat. and so, i left my work station and went downstairs to the reception table, found a corner and huddled there on 2 chairs to snooze.

just when i was making myself comfortable and trying to set up the environment with the help of my colleague to prevent anyone from seeing me dozing there, i was stumped to find myself staring in the face of you-know-who. oh god! i didnt know how to react, and i was STILL lying down!

my colleague & i got a shock. oh shucks.. and then without either of us saying anything, he left. without a single word. i cant imagine what thoughts ran through his head tho. he didnt see me initially. he came quietly and stood there quietly. and then my stupid mouth blabbered something to my colleague and i caught his attention. there, a simple case of stupidity.

and i was going.. oh shit.. oh shit.. how how?? i doubt there's nothing else better to do now than pretending nothing has happened. and yes, im wide awake now.

(and so, the word got out to the rest of my colleagues within minutes and they were all laughing their asses off. 1 even suggested that i should sleep in toilet since you-know-who wont be able to enter. -sigh- )


...

im bored. im sleepy. stomach's churning. cant sleep. waiting for download to finish. im beginning to think my blog sucks. maybe i should start a new one. weather's darn hot. argh! someone make some noise here!


Wednesday, June 15, 2005
its a special day..
i re-did my manicure during lunch today.. and im typing really slowly to prevent any more accidents from happening.
and i did manicure and nail art for another colleague. haha.. Shhh.. dun tell anyone that im not working ah.. i finished my poster.. and did what was outstanding. nothing much now while i wait for my nails to dry so that i can go pee. and i NEED to pee BADLY!
anyways, anyways.. here are some photos for show.. :) been waiting for them? wait no further!
11 June 05
Spain - Day 4 (missed it out in the earlier post..)
Spain - Day 5


Tuesday, June 14, 2005
lifted from michie's lj..
woah.. i think this is quite fun..
You can ask me any 4 questions. no matter how personal, inappropriate, or random.
I promise to answer the questions 100% truthfullly.
so what are u waiting for?? shoot me.
Repost this and see what people want to ask you....
disclaimer - i reserve the right not to answer certain questions if i deem it unfit to be here on this bloggie (however, i
might
answer u via some other means.. just so to let u know.. but note..
MIGHT
.
p/s: use the comments link instead of the tag board. thankie!
great.. just great..

deadlines are near but im procrastinating. so today, i broke my usual daily routine and started working on a poster to be finished by the end of today. i was engrossed in it and didnt realised its lunch till my colleague told me so.

and so to lunch i went. and i came back to my desk finding all my work for the morning gone. my computer has decided to go to sleep and NOT wake up. and i didnt save my work. i could only force shut the computer and on it back. even the magic ctrl+alt+del couldnt trigger any reaction. how nice. did i mention how fantastic the newest computer in the office is? (that's mine, by the way)

oh well, its now 2 hours to knock off time and i just think the day is simply fabulous. especially when my poster isnt done yet. how nice isnt it? anyone wanna share my luck? hur.


clouded vision..

when heat gets into your head, clothes are sticking to your skin, ur skin drips of sweat, you had a japanese lesson that's so alien, tonnes of work to be done back home, and drooping eyelids, looking at the long journey home pisses you off.

that's what happened to me last nite. i was so dog-tired, my bag getting heavier by the minute and a call from my mum pisses the hell outta me.

who do you turn to when everyone wants a say in what u are doing? whose advice do u heed? how are u going to based your judgement on when u are torn between your aunt, your uncle, your mum and your own interest? tell me.

i had enough. i'll do what i want and what's best suits me. afterall, its my money. its my effort. so shut all your comments and leave me alone. thank you.


Monday, June 13, 2005
yawns..

im so tired. i slept near 5am again last nite. i wanted to turn around my sleeping time over the weekend, but stupid me, i fell asleep yesterday evening when i was lying in bed fuming. and i couldnt get to sleep again and my bio clock is totally screwed! argh! -smacks myself-

now, im relieving the receptionist at the front desk so that she can head for lunch. its so quiet here. am alone with the front door, 4 walls and the lift for company. it's super condusive for sleeping with the orangey lights giving out their glows above me. help. im typing nonsense to keep myself away. no msn either. better not too, since once a while there's a stranger walking in..

i can feel my eyes closing and my head nodding.. and my body starting to feel lifeless. help! -slaps myself awake-


fuckity fuck..

ring any bell? yes, that was my msn yest. im not going to explain what happened.. but i have something to say to someone.

dont u ever listen? didnt i already tell u where i thought it would be before u asked me time and time again. yes, u have been bugged by someone else. but that, doesnt give u a reason to raise ur voice at me and keep bugging me?

what do u want to me do? corner me till i decide to lie? and stop blaming abt me shouting when u raised ur voice at me first. u got a temper and i got a nastier one. im pretty good at slamming doors too. that, u should know. the only difference is that im more sane and wont do crazy things.

u owe me an apology. it doesnt mean that i decided to answer ur call this morning means u are forgiven. i'm still waiting for the apology and the thank u for the hokkien mee.

enuff said. i'll wait. no matter how long u'll take.


waiting for lunch..
i am so b o r e d..
yes. u heard me. these days, my daily ritual when i come to work is..
make myself a cup of milo..
sit down and blog surf...
blog..
wait for lunch..
do a bit of work after lunch (not that there's much to do)..
msn all the whole day..
start packing my stuff at 5.05pm..
5.30pm sharp or earlier, disappear out of sight.
so, anyone wanna take up my job?
had a family dinner with wei's dad + siblings last sat nite at qi guai hai sian at turf city.. woah.. first time. pretty cool experience and i was going.. "wow" at all the seafood. i wanted to try the really huge cockle.. but i didnt dare to say a thing. i had fun looking at all the seafood.. i love aquatic life since i was a kid.. and i remembered my dad bringing me to this aquatic musemum thingy to see all the electric eels and stuff.
met the girls after the dinner at david's place to check out the wedding photos and video.. and played mahjong till 5am in the morning.. Oops! sped home driving wei's car and he's long already in dreamland..
here's the group photo of the table i sat at ivy's wedding.. and i did some photoshop to include myself there!!
before editing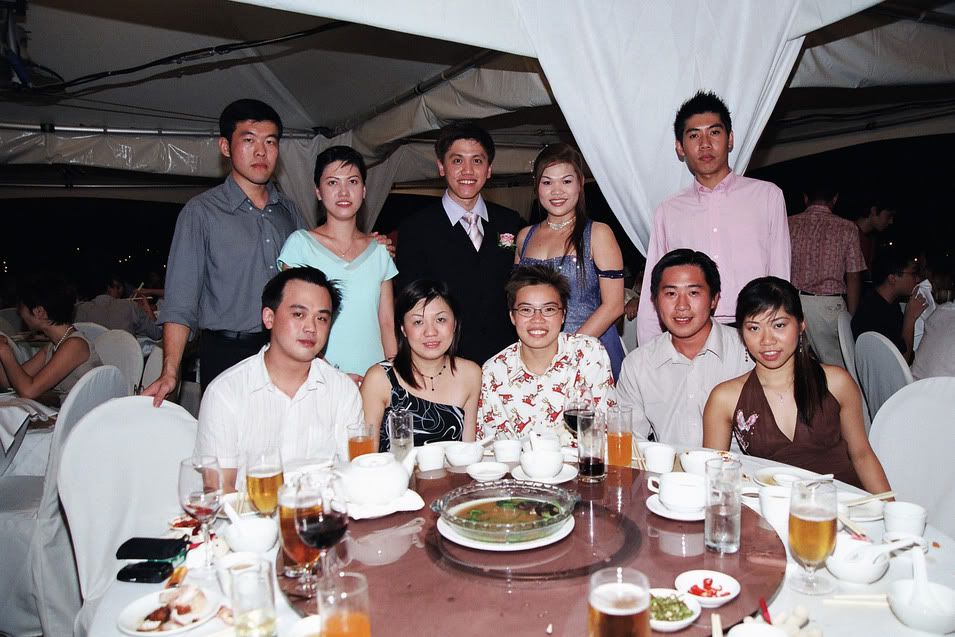 after editing.. ta ta!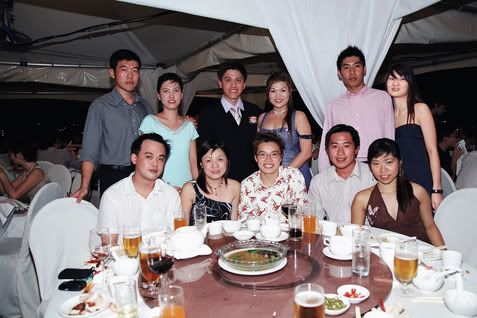 ahhh.. the wonders of photoshop! -wink-
i got to admit it's not very well done. im a tad too bright with the setting.. but its hard when everyone that walks past my desk starts poking their heads and ask questions like who's that? who's wedding? is that your bf? bla bla bla. nosey parkers. sometimes its really annoying when i want to be alone. worst still, how do u deal with one with really bad breath that each time he talks, i have the urge to vomit?
maybe i can work on it further when i have more free time.. back at home. maybe, next week when i am done with the sorting of spain photos. im still struggling to see all the photos.. 2 more days to go. running short of time since got to get the photos developed, sorted and place them in albums before grandpa's 90th bdae this weekend. so it'll be a while that i do collages to show again.
it's almost time for lunch. super hungry.. blog later. ciao!
Saturday, June 11, 2005
inadequate social skills?

the insomia bug bit me again last nite. i slept at near 5am. it was a torture (yet again) for me to struggle out of bed. but cos its a sat.. i dun give a darn. -bleah- mr. you-know-who wont be in the office early anyway. and so, i was proven right once again strolling into the office at 9.35am not seeing a sight of him. heh.

im beginning to think i lack a certain amount of social skills. i find it hard to communicate with strangers, especially girls. am i keeping to my own circle of frens too much that i forgot how to make new ones already? -loud sigh-

i was out with kelvin (xiao ping guo) and his group of friends last nite. a well mix of boys and girls. however, i have no idea what to say to the girls. am constantly checking my words, replaying them repeatedly in my mind before burting out whatever i wanted to say.. and i think i sensed a little stammer while talking to them.

they are so foreign, and i have no idea how to break the ice. somehow, i converse with the guys much better. not sure why. i blurt out whatever i want to say in front of them, however crude it is, and dont give a darn about what they think of me, but i just cant do it with the girls.

i think im keeping a constant check on myself when interacting with girls. and im also clamming up myself tight when i meet them (and yes, sometimes i appear to them as aloof). maybe its cos what they think matters. and the fact that most girls bitch (yes, me included) freaks me out. and the extend to which they can bitch about freaks me out further (of coz, that doesnt happen when i bitch abt others, heh.). i think that's y im feeling so uncomfortable.

since the start of secondary school days, i hardly got along with girls. i always find it more comfortable to hang out with the guys. is it the boyish me or what, that, im not sure. but this problem is beginning to bug me. other than the chosen few who knows me inside out, i think i cannot converse well with wei's female colleagues, wei's friends' girlfriends, my guy friends' girlfriends and sometimes my own colleagues. it also dawned on me that im fine on the phone, but the moment i meet someone face to face.. im at a loss of words.

issit the image freak in me playing tricks? im confused. does any of my close friends know the answer? please tell me if u do. or maybe, someone should suggest how i can get over this. i think it's a very crucial skill now that im out in the society. help!


Friday, June 10, 2005
finally sleeping early..
i fell asleep holding an un-capped pen last nite. in bed. i have no recollection of what i was doing before that. i remembered working on my photo collages. i remembered seeing the clock strike 12.40am. and anything after that..why the pen was in my hand, i seriously cant remember.
i woke at 6am. head feeling groggy, room + dressing table + toilet lights are still gleaming brightly. i stood up and stared into the mirror. my eyes are puffy and its a torture to peer at the image reflected on the mirror.
checked on my computer and its blinking in my eyes. surprisingly, i sat down and did 2 more collages for my spain photos, shut my computer and tried to get back to sleep.
turn, toss, turn. i dont think i grabbed any sleep. it didnt feel like i did. mum banged on my door at 8. -argh- and there i go again, working out my daily routine.
anyway, here are MORE spain photos..



Thursday, June 09, 2005
silly little me..
i was really frustrated last nite. my hp was spoilt! 6 months old handphone. i was sitting by my computer with my hp by my side. the last msg i got was around 11pm. at 2am in the morning, i wondered why my hp was unusually quiet. and guess what? my hp screen is blank and doesnt react no matter what keys i hit on the keypad. no matter how hard i tried to switch it on.. it wont light up. shucks. i was like cursing. how can it just died on me?
low batt? i plugged my little phone into my charger and waited for 15 mins. no reaction still! shucks. that was when i was REALLY upset. and it had to happen when i just loaned my spare phone to my aunt during my spain trip to help her tide over till she got herself a new phone. and she's in KL. how great. started looking for my warranty card and conceptualizing plans for heading to nokia centre right after work. took my sim and pluck it into my really old 6510 and there i was, reeling in misery.
i got to admit. my hp is an accessory i cannot live without. it's a sad thing, but i'll feel super lost without it. i would go home to retrieve my hp if i realise that i forgot to bring it along with me, no matter how late for work i will be.
my brother came out for a drink and i was complaining abt my hp. my bro kept insisted that it was a case of low batt, and so he went off to my room, checking out the phone, charging it and fumbling with it. 10 mins later, he emerged asking for my sim card and shouted, "aiyah! nothing wrong with ur phone lah. told u low batt already!"
refusing to believe it, i passed him my sim card. he took it, pluck it into my hp and presto! the nokia sign flashing in my face. i can feel the cheer lighting up my face. hee. and so it turned out.. that my hp was in meeting mode and didnt give out any signal when it went low batt. tat's y i didnt know. and my mum, switched off the electrical plug for my charger (it NEVER happened before) while i was away in spain, that's y i din get any reaction from my phone when i plug it in.
how silly right?
(
more silly things abt me here
)
anyway, here's more spain photos (day 3)..